Recruiting Process
Recruiting

OCI recruiting process encompasses three main drivers: Understanding Client Needs, Pro-active and On-demand Recruiting and Delivery and Governance
Understanding Client Needs
OCI well qualified business and IT account executives and managers strive to understand our clients' business and IT needs through understanding clients':
Business: Understand local, national and global clients' business sector and their position within market place to help develop ideas to proactively grow their business.
Strategy: Understand client talent acquisition strategy and plans including: management, growth, retention, training and benefits.
Plans: Maintain awareness of client long term and short term business and talent acquisition and management plans that deliver on client strategy.
Culture: Understand client communication, values, preferences, priorities, decision-making, and management structure and style to help understand their requirements and best culturally suited candidates.
Job Requirements: Fully understand and contribute to developing clients Job requirements including objectives, responsibilities, reporting structure, mandatory and desired requirements covering hard and soft skills.
Risks and Constraints: Duration, budgetary/financial, legal, security and privacy constraints and locations preference.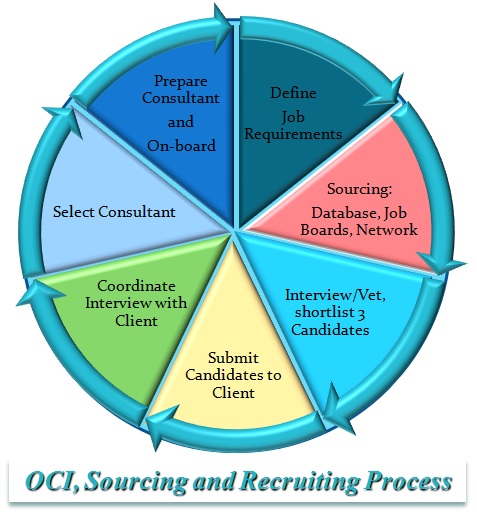 Proactive & On-Demand Recruiting
OCI proactively manage recruiting and applies industry best practices to acquire, retain and grow its active pipeline of business and technology consultants to ensure timely readiness to meet and exceed client needs. Our approach includes:
Engagement: Engage highly specialized and high performer consultants through their careers to ensure availability of best of breeds consultants for client needs.
Networking: Maintain a network of highly specialized professionals in various domains business and technology domains to complement OCI traditional sourcing and ensure resources availability for client on-demand and urgent needs.
Sourcing: Continuously and proactively acquire professionals with core and emerging business and technology skills from a wide range of job local, international job boards to maintain an up-to-date OCI skills database.
Interviewing: Screen and interview candidates proactively and on demand and establish professional profiles to ensure readiness, best fit and availability when needed.
Vetting: Vet and test consultants on job's hard and soft requirements, skills, certifications, cultural fit, locations, salary/rate expectations, availability and flexibility.
Selection: Short list best suited candidates based on experience and skills requirements and taking into consideration location and availability.
Preparation: Prepare consultants with a thorough briefing about the client company business, culture, reporting structure, role objective, responsibility and its impact on corporate goal.
Placement: OCI account manager will work with client to coordinate consultant placement and ensure smooth first day at the job.
Engagement Delivery & Governance
OCI success successful delivery is measured by client's initiative benefit realization. To that end OCI strives to provide best industry practices:
Risk-Mitigation Planning: To minimize clients risks and at no additional cost to client OCI will assign a senior engagement manager to oversee its consultants work performance and deliverables quality and adherence to clients objective, standards, and industry best practices. OCI will identify and track availability of 2-3 alternative resources at same level or higher to eth placed candidate for potential replacements if and when needed
On-boarding: OCI will prepare its consultants to hit the ground running on the first day of engagement. Perform security and background checks if needed and provided needed personal info to clients. Debrief consultant on all relevant info from dress code, to culture, role, deliverables, constraints and performance metrics
Performance Management: OCI engagement manager will collaborate with consultant and their client managers to ensure consultant(s) is meeting and exceeding performance targets through status reporting, performance checks and periodic meetings
Added Value: OCI will in advanced identify added value to client and ensure consultants are well versed and capable of providing such added value and the engagement manager will ensure their realization
Resources Support: OCI will leverage its in-depth experience and expertise to support its consultant through status reporting and performance reviews and through assignment of an OCI engagement manger with domain expertise at no additional cost to the client;
Knowledge Transfer: OCI consultants are well trained in providing knowledge transferee through will augment clients approach with its standard check list
Closure: OCI will ensure engagement and/or program/project closure based on client methodology augmented by OCI best practice